Memphis is a city known for its rich culinary heritage, and in recent years, it has also become a hub for healthy and delicious dining options. From plant-based cafes to farm-to-table restaurants, Memphis offers a diverse range of eateries that cater to those seeking a nutritious and satisfying meal. In this article, we'll explore some of the best healthy eateries and restaurants in Memphis, providing you with a guide to nourishing your body and soul in the city.
City Silo Table + Pantry
City Silo Table + Pantry is a popular eatery that offers a variety of plant-based and health-conscious dishes. With a focus on using fresh, locally-sourced ingredients, City Silo serves up delicious and nutritious meals, including salads, grain bowls, and smoothies.
pic credits:www.citysilo.com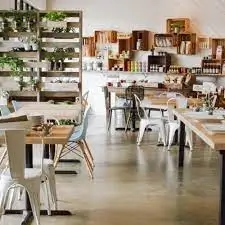 Mama Gaia
Mama Gaia is a fast-casual restaurant that specializes in organic, vegetarian, and gluten-free cuisine. With a menu that includes a variety of flavorful and wholesome dishes, such as quinoa bowls, wraps, and salads, Mama Gaia is a top choice for health-conscious diners in Memphis.
pic credit:archimania
LYFE Kitchen
LYFE Kitchen is a health-focused restaurant that offers a diverse menu of dishes made with fresh, high-quality ingredients. With options ranging from salads and grain bowls to flatbreads and protein-packed entrees, LYFE Kitchen caters to a variety of dietary preferences and needs.
pic credits: facebook
Wild Beet Salad Company
Wild Beet Salad Company is a fast-casual eatery that specializes in made-to-order salads and wraps. With a focus on using fresh, locally-sourced ingredients, Wild Beet offers a variety of customizable options to create the perfect healthy meal.
pic credits:Facebook

Taziki's Mediterranean Café
Taziki's Mediterranean Café brings the flavors of the Mediterranean to Memphis, offering a menu filled with fresh, wholesome dishes. From grilled meats and seafood to colorful salads and flavorful sides, Taziki's provides a delicious and nutritious dining experience.
pic credits:Taziki's Café
The Farmer
The Farmer is a farm-to-table restaurant that focuses on using locally-sourced, seasonal ingredients to create a menu of healthy and delicious dishes. With a commitment to sustainability and supporting local farmers, The Farmer offers a dining experience that is both good for the body and the environment.
pic credits:instagram

By exploring these top healthy eateries and restaurants in Memphis, you'll discover a world of delicious and nutritious dining options that cater to a variety of tastes and dietary needs. Whether you're a longtime resident or a visitor looking to indulge in a wholesome meal, Memphis offers a diverse range of eateries that are sure to nourish your body and soul.
#grabmyCARD
JustMy is about supporting LOCALS, check out these LOCAL area businesses and organizations! Everything you want to know about them is here! Like and Share TODAY! If you are a local business and would like a free listing with us, create your Digital Business Card today and we will share it with the community!

Get Involved with JustMyMemphis LOCAL Hub ????
Hey Memphis, it's time to show your love for our city! JustMyMemphis LOCAL Hub is inviting you to get involved and help us promote the amazing things happening in our community. We're looking for passionate locals who want to write articles, volunteer to cover and promote local causes or events, request to be interviewed, or even be a guest anchor to help us showcase the best of Memphis.
Here's your chance to be a part of something special and make a difference in our city. Join us in celebrating the heart of Memphis and let's Beamazing together!
Ready to jump in? Click the button below to sign up and get started! ????