Hyundai Motor Company has unveiled its radically transformed all-new Santa Fe, a fifth-generation midsize SUV that combines nature and city appeal with major updates based on the latest outdoor lifestyle trends. The new model is set to make its world premiere in August via Hyundai's YouTube channel.
A Lifestyle-Based Design for Maximum Cargo Capacity
For the first full model change since 2018, Hyundai Motor adopted a lifestyle-based design typology to maximize rear cargo capacity and better accommodate outdoor and urban activities. The result is a powerful exterior design with fine details and a spacious, versatile interior that flows from the openness of its enlarged tailgate, providing users with a terrace-like space whenever and wherever they need it.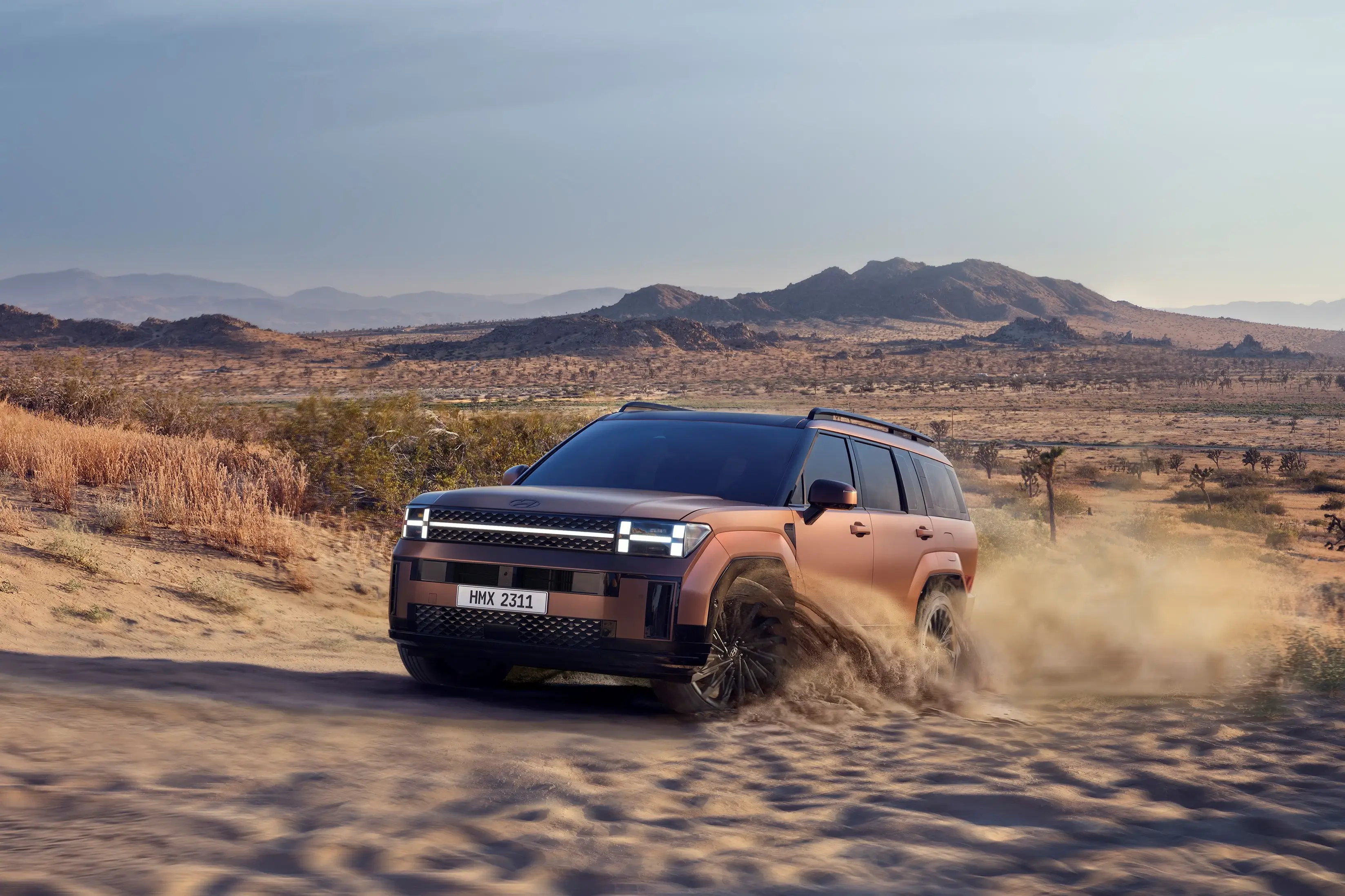 Unique Exterior Design and H-Shaped Design Cues
The all-new Santa Fe features a boxy shape and distinctive silhouette, derived from its long wheelbase and wide tailgate area. The front of the vehicle creates a sense of grandeur with its high hood, H-shaped headlamps, and bold, sharp fenders. The H-shaped design elements reinterpret Hyundai's 'H' emblem. The rear end is simpler, with H-shaped taillights harmonizing with the front H lights to create a distinctive Santa Fe presence on the road, day or night.
Best-in-Class Terrace-Like Space for Urban and Outdoor Life
The all-new Santa Fe offers a spacious interior with a terrace-like feel at the rear when the tailgate is open. The fully foldable second- and third-row seats provide class-leading interior space, making it easy for users to enjoy the outdoors. This feature also makes the all-new Santa Fe a scene-stealer in urban settings, allowing young families to use the rear area for various purposes, such as grocery shopping, home improvement projects, sports and recreation, gardening, family outings, and pet transportation.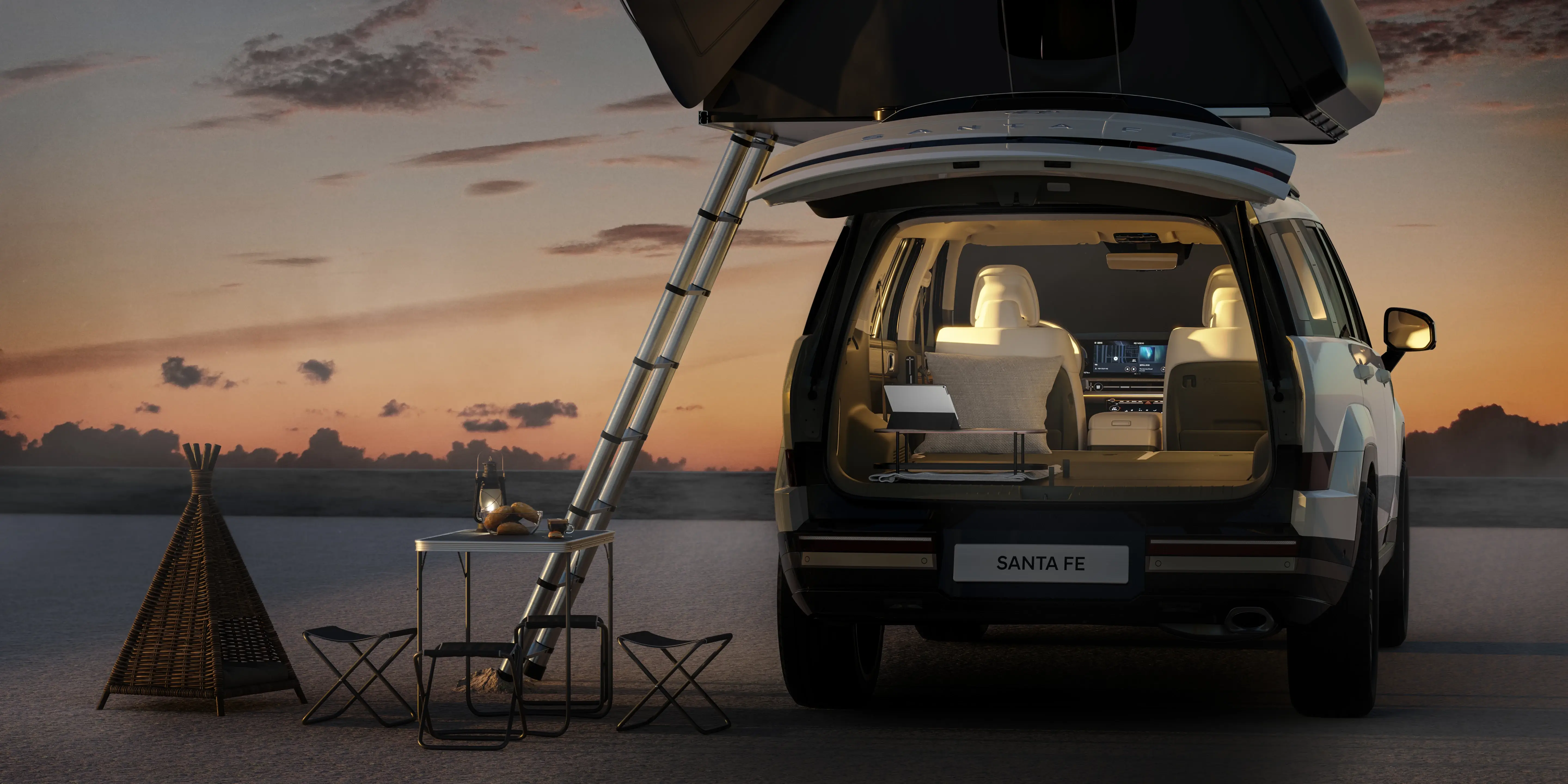 Eco-Friendly Materials and High-Tech Features
The all-new Santa Fe incorporates sustainable materials, such as recycled plastic for the suede headliner, car mats, and second- and third-row seatbacks, and eco-friendly leatherette for the crash pad and door trim covers. The interior also features a variety of high-tech features, including a Panoramic Curved Display and dual wireless charging. The curved display connects the 12.3-inch digital cluster and infotainment system, enhancing driver visibility while delivering a sense of luxury.
Inspired by Natural Light: Interior and Exterior Colors
The interior and exterior colors of the all-new Santa Fe are inspired by natural light, highlighting its unique style and bringing inspiration and vitality to everyday life and adventure in the city and great outdoors.
With its bold new design, spacious interior, and innovative features, the all-new Hyundai Santa Fe is set to make a powerful statement in the midsize SUV market.
Presented by JustMyMemphis, your go-to source for local news, events, and more, we invite you to like and follow The AutoShow on JustMyMemphis for the latest automotive news and updates. If you're looking for a Hyundai dealership in the Memphis area, check out our LOCALS directory to find the perfect one for you. Stay connected with JustMyMemphis on social media for more updates and local happenings. You can find us on Facebook, Twitter, Instagram, and YouTube. Join the JustMyMemphis community today and stay informed about the latest automotive news, local events, and more. Happy driving!
#grabmyCARD
JustMy is about supporting LOCALS, check out these LOCAL area businesses and organizations! Everything you want to know about them is here! Like and Share TODAY! If you are a local business and would like a free listing with us, create your Digital Business Card today and we will share it with the community!

Get Involved with JustMyMemphis LOCAL Hub ????
Hey Memphis, it's time to show your love for our city! JustMyMemphis LOCAL Hub is inviting you to get involved and help us promote the amazing things happening in our community. We're looking for passionate locals who want to write articles, volunteer to cover and promote local causes or events, request to be interviewed, or even be a guest anchor to help us showcase the best of Memphis.
Here's your chance to be a part of something special and make a difference in our city. Join us in celebrating the heart of Memphis and let's Beamazing together!
Ready to jump in? Click the button below to sign up and get started! ????